by Lauren B. McConnell
Terezín's The Fireflies is a children's play with music that was created and performed by Jewish prisoners in the Terezín concentration camp (also known as Theresienstadt) during World War II. The text to the play was lost after the war, but through archival documentation and witness testimony from survivors, playwright and theatre scholar Lauren B. McConnell and composer José-Luis Maúrtua created a reconstructed version of the musical.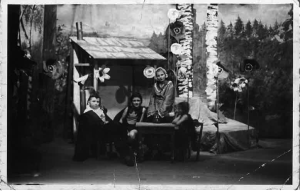 Photo of 1946 remount of The Fireflies produced in Osek, Czechoslovakia

Based on the popular 19th century children's book Broučci, by Jan Karafiát, Terezín's The Fireflies tells of the adventures of Brouček, a little firefly boy, as he grows up. The purpose of the show in the camp was to give children a cheerful activity that also had educational value and entertained fellow inmates. Czechoslovak folk songs were integrated into play, making it a fun and unique musical that was popular in the camp, where it was performed at least  35 times. Later, the show was also used for propaganda purposes by the Nazis, who demanded The Fireflies be performed for the Red Cross and other visiting dignitaries who were evaluating the conditions of the camp in 1945.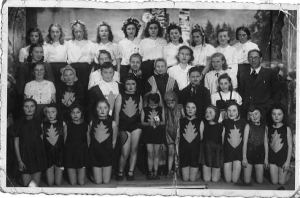 Cast of 1946 remount of  The Fireflies. directed by former Terezín inmate Dr. Josef Klačer (right) , whose daughter Jana (center, looking down) was in the show. Both photos courtesy of Jana Urbanová.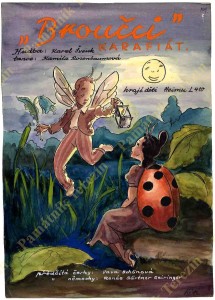 Poster for the 1943 production of The Fireflies by Oswald Pöck. Image courtesy of The Terezín Memorial.

All Rights Reserved